Urban Rigger by BIG architects
Everyone in Copenhagen has an easy opportunity right now to take a look at one of the new projects by the world's darling architect no. 1, Bjarke Ingels / BIG architects.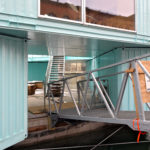 The project consist of six reused shipping containers refurbished to provide housing for students.
The rigger features a central outdoor space and roof terrace – and jumping in the clean water of the Copenhagen Harbour directly from the living space.
It's located right now at Havnegade in central harbour.